The file format used by SmartEdit Writer is docx, which is the Microsoft Word document format. Each scene you write is saved to its own small Word document. But individual scenes are of no use to you when the time comes to send your finished manuscript to an editor, publisher or beta reader. You need a single Word document.

Compiling all of your scenes into one document in SmartEdit Writer is easy. All you have to do is click on the "Export as a Single Document" button on the Actions & Tools menu and choose a document name and location. A single Word document is immediately created.
How is this document produced?
SmartEdit Writer goes through your Document Tree from top to bottom and adds each scene it finds, in order, to a new document. This new document is then saved to the file and location you specified. Folder names are ignored and notes are ignored. Only scenes are added to the new document, and they are always added in the order they appear in the Document Tree.
Before you export your work, take a look at your Document Tree and ensure that the order of the scenes is correct and that no scenes are in the tree that you do not want to appear in your exported document. If something is in the wrong order — Chapter 8 before Chapter 7 for example — use drag and drop to move them around so that they are in the right place. If a scene you no longer want to include in your Document is in the tree, right click on it and Move it to Fragments. Anything in your Fragment tree is ignored when you export as a single document.
Page breaks can be inserted automatically at different locations depending on which options you have pre-configured. On the Settings dialog, click on Exporting and choose one of the four options.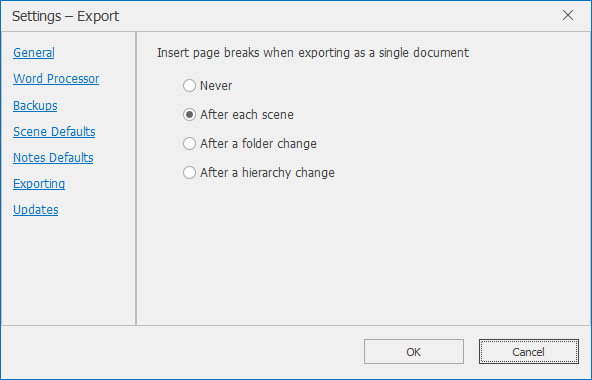 Never No page breaks will be inserted
After each scene A page break is inserted after each scene. This is ideal if you typically write one chapter per scene.
After a folder change If you structure your project such that you have one folder per chapter, and each scene inside that folder belongs to that chapter, choose this option.
After a hierarchy change You may have your project structured such that there are multiple levels of folders and scenes within scenes. In this case, a page break each time the level of the scene changes might be more appropriate.